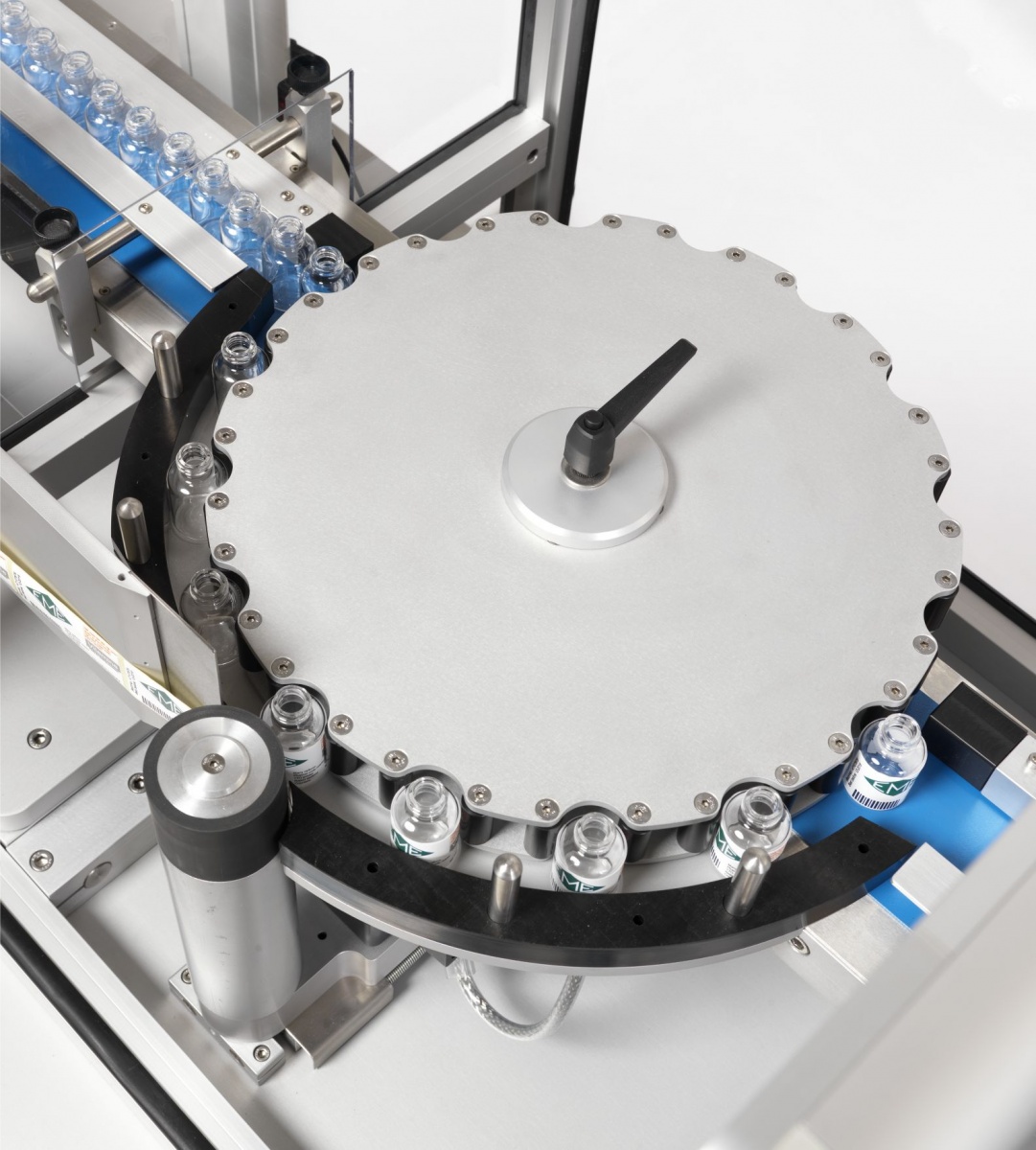 Spotlight On High Speed Rotary Labelling Machines: Everything You Need To Know
With so many types of labelling equipment to choose from, it is essential you pick the right machine for your products. From semi-automatic labelling machines to print and apply systems, there is a lot to consider when picking equipment. To help you understand the ins and outs of our machines, we are delving into the details of high speed rotary labelling machines. Read on to find out what they are, how they work, and when they are used.
What Is A High Speed Rotary Labelling Machine?
In simple terms, a rotary labelling machine is a piece of labelling equipment which transports containers or bottles from a linear production line onto a rotating base. This base is often known as a carousel, and it holds individual products in place with a firm grip from a top clamp. As the platform rotates, a label applicator works to place labels onto the correct side of the product. The label is carefully applied as the carousel turns, and in some cases, multiple labels can be placed on different sides of one product. High speed rotary labelling machines run this process at extreme speeds, in order to quickly move through the production line and get products out in minimal time.
These kinds of machines come in various sizes. The number of labels required on the product will determine how many label applicator heads are needed. Rotary labelling machines are also available with various size carousels, each designed to hold a different number of products at any given time. A small labelling machine may use an 8 platform carousel, whereas a larger version could manage up to 24 products at one time. High speed rotary machines are perfect in large production lines, as they use an in-feed conveyor to pick up the products and label them effortlessly and with no operator intervention. After labelling, it is likely the production line will then feature a verification process and reject station for quality control.
What Are High Speed Rotary Labelling Machines Used For?
This kind of labelling equipment has many uses and will be found across many factories and supply chains. They are suitable for round containers such as bottles and cans, so they are often used for beverages, medicines, cosmetics, and food products. Many everyday items such as bottles of water and tins of beans are likely to have been labelled using a high speed rotary labeller. It isn't just round containers which can be used with this kind of labelling equipment, and uniquely shaped products such as triangular bottles can also be labelled thanks to the intelligent platform control.
There are so many benefits to choosing a high speed rotary labelling machine. The obvious benefits include the fast speed in which products can be labelled, and the direct application method which is fully automated. In addition to this, this kind of labelling machinery can improve safety in the production line and help keep costs to a minimum.
For more information on the benefits of these labelling machines and to discuss your requirements, contact our team of experts today.