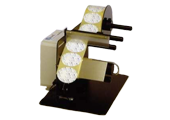 Permanent Or Removable Adhesive Labels: Which Is Best?
Labelling is an incredibly important part of any product, as it's going to play a huge role in pushing your customer towards making a purchase. As such, you'll want to put some amount of effort into researching your labels, even though it may seem pretty straightforward.

There are two different types of adhesive that you can use in a labelling machine: permanent adhesive labels and removable adhesive labels. Each has its own list of benefits, but which is best for your product?

If this is something you've been wondering, then you've come to the right place. We're the experts when it comes to labels and labelling machinery, so to help you get to the bottom of which is best for you, we've put together this handy comparison.
What Are The Differences Between Permanent And Removable Labels?
To get the obvious out of the way, permanent adhesive labels are permanent, removable adhesive labels are removable. You'll be glad to know it does go a bit deeper than this, and there are some good reasons to choose one over the other.

Starting with permanent adhesive labels, one of the main benefits is their cost effectiveness. They're a much more affordable option than removable adhesive labels, thanks to the simpler type of glue they require. The downside though is that they're not removable without damaging the label, or even the packaging. This does make them perfect for tamper evident labelling, if your products require it.

Removable adhesive labels on the other hand offer a handful of benefits. While they are that bit more expensive, it can often be worth it for the added flexibility that they offer. If something goes wrong, then there's the option to reapply it. In some cases they may be able to be reapplied just the once, but labels that can be reapplied again and again are also available; be sure to check this before you buy.

As an added bonus (thanks to how removable adhesive labels are so easily removed), they're the perfect choice for anyone who's conscious of recycling or leaving a greener footprint. Permanent adhesive labels will have to have them burned away during recycling, which just uses up more energy.
So Which Is Best For Your Products?
It isn't quite so straightforward as one being definitively better than the other. It all depends on what you're looking to achieve. While you'll have much more freedom and a greener footprint with removable adhesive labels, the cost effectiveness of the permanent labels may be a deciding factor for you.

If you'd like to know more about which type of adhesive label is right for you, then be sure to get in touch and speak to our team of experts. Here at Atwell Labellers, we know all there is to know when it comes to permanent and removable self-adhesive labels, and better yet, we have all the kit and labelling machinery you need to get your labelling operation in full swing. So get in touch today and see how we can help you to take your labelling to the next level.