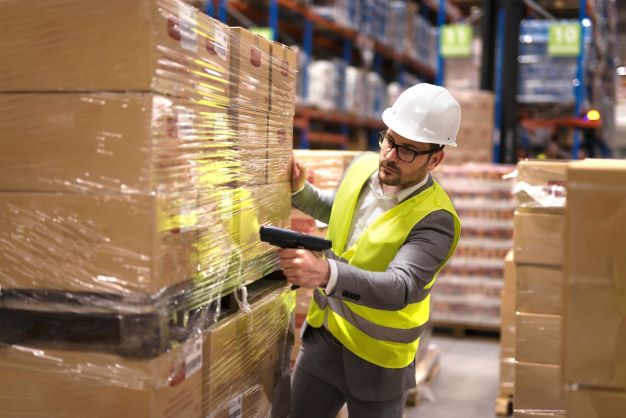 How Labelling Machines Can Help Your Business Use Pallets More Efficiently
Industrial environments can often benefit from advanced labelling systems, and many businesses fail to realise how much of a benefit a good labelling machine can be. They can easily be integrated into all kinds of industrial processes, from the identification and marking of products to coding and labelling boxes, cases, and pallets within a factory or warehouse.
Pallets are often considered tertiary packaging for industrial use, and they are made up of many boxes which are stacked and wrapped in a plastic film. They work to simplify the transportation process of products and are often used on large scale production lines. As well as being critical for transport, pallets are essential for traceability and safety. In many supply chains, the entire process is tracked using pallets and they also work to keep tabs on the production of specific orders. If you are wondering how labelling machines can help make the use of pallets more efficient, read on for our expert guide.
Identification Of Pallets
Many industries and sectors must track all their products throughout the supply chain and production line. Food, pharmaceutical, and logistics companies are all required to guarantee the reliability, safety, and integrity of their products. Pallet labelling machines can help with this, as they allow businesses to label and identify every pallet as it moves through their supply chain. Depending on the size and nature of the business, bespoke labelling machinery can be developed to perfectly suit your unique products and pallets.
Pallet Labels Explained
Once you have the right labelling machines for your pallets, you can develop the ideal label structure for your identification processes. Most logistics labels are fairly standard, and work to identify packages or pallets for commercial or logistic purposes. These are sometimes called GS1 labels, and they are made up of three sections with a barcode at the bottom. This barcode is a GS1-128 barcode and is the only piece of required information for a logistics label.
In the upper and central section of the label you should include necessary information including the name and addresses of the sender and the recipient, and details on the contents of the parcel or pallet. Next you will need an SSCC, or Serial Shipping Container Code. This is used to identify the unit throughout the supply chain and will track every movement of the pallet. Depending on the products, GS1 labels might also need to contain lot numbers, serial numbers, expiration dates and more.
At Atwell Labeller, we are leaders in labelling machinery for industrial use, and have a range of advanced labelling systems for pallets. Our Print & Apply labelling machines are ideal for most industrial requirements, or we can create bespoke machines to suit your supply chain. We also offer a contract labelling service, where we can handle all your label requirements on your behalf. For more information, contact our experts today.