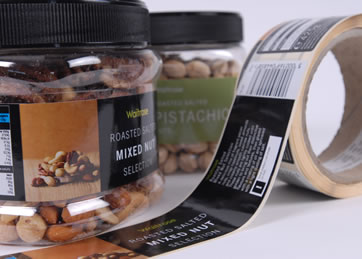 Common Labelling Problems Explained
When it comes to product labelling, it is so important to get it right. Label quality is critical for showcasing your brand to consumers in the best possible way, but with labelling machines and hand labelling, there are things that can go wrong. After designing and printing the perfect labels for your products, the last thing you want is for them to go wrong during application or even further down the line. As labelling machinery experts, we are sharing some of the most common labelling problems and how to combat them.
Label Curling: What It Is And How To Stop It
We often see businesses struggling with labels which curl up over time or after application. Not only are curling labels frustrating, but they can also be detrimental to your brand. There are various reasons why labels will curl up, and before you can find a solution you need to identify the cause.
Incorrect Label Material:

The perfect label material for you will depend on your product packaging. One of the most common reasons for labels that curl up is that the wrong material has been used. If label material is too thick or stiff, then it can increase the chance of the label curling when applied. This is because rigid labels don't bend easily, but a material which is flexible and lightweight will better stick to the container. 

Difficult Label Surface:

The surface that your labels are being applied to can cause curling. If the area on the product packaging is very small or an unconventional shape, then it can be challenging for a label to stay. If the surface on the product can't be adapted, look for ways to use

wrapround labelling

where the label can be stuck to itself with a slight edge overlap.

Unsuitable Label Adhesive:

It is important you use the right adhesive for your label material and product surface. Adhesives can lose their strength with time and when they come across heat, sunlight, or chemicals. Always make sure you are using the correct label adhesive to avoid curling. 
Labels Not Sticking: What Causes Poor Label Adhesive
Labels which are not sticking on application is another very common problem. There are many reasons why a label might not stick to the product surface, and in order to resolve the problem you need to understand why it's happening with your labels. Follow these top label application tips to ensure your labels stick every time:
Clean The Surface:

Label adhesives will bond better when applied to a clean surface. Always thoroughly clean the area of the product before applying labels, whether you are using a labelling machine or applying by hand.

Keep It Dry:

In addition to being clean, your product surface must also be free from moisture for the adhesive to create a strong bond. Having moisture on the surface can create a barrier which prevents the adhesive from sticking. 

Get The Right Temperature:

It is common to have application issues if your products are subjected to extreme temperatures. For example, some adhesives will not stick well to products that require freezing or high heats. It is generally recommended to apply pressure sensitive labels at room temperature.
For more information and advice on labelling and labelling machinery, contact our experts today.