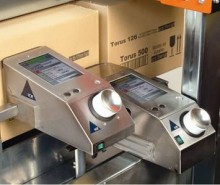 Why Digital Printing Is The Future For Custom Labelling
Changing up your product labels can be the thing that makes them stand out from the competition. Having labels that really grab your customers attention is crucial to product success and getting noticed. Many traditional labelling machinery and printers make it challenging for businesses to change labels on a regular basis. Digital printing, on the other hand, makes it easier than ever for you to create custom labels and regularly changing designs without breaking the bank. We are looking at why advanced labelling systems with digital printing are set to be the future of custom labelling.
What Is Digital Label Printing?
Before we can look into how digital printing works, it is essential to understand how traditional labelling machines and printers operate. Offset printing will use physical plates to print labels. These plates are created specifically for your label design and are used to transfer the ink onto the material. Because physical plates are produced for each label, every single label that is printed will be identical, making small changes impossible. When it comes to bulk printing and large runs, this type of printing is very cost-effective and an excellent choice.
With digital printing, digital images are printed directly onto the labels using special inks, without the need for physical plates. This method gives you the freedom to make each label completely unique and make alterations to label design whenever you please. Digital printing will print exactly what is on the digital artwork file, so you don't need to keep every label precisely the same. This opens up many opportunities for product marketing and makes your business stand out from the crowds.
The Freedom Of Digital Label Printing
Using digital printing as part of your advanced labelling systems gives you total freedom over your product labels. You can use digital printing to create completely customised and bespoke labels to attract your consumers. A fantastic example of this is Coca Cola, who ran a campaign to connect with customers by printing popular first names on all of their labels. Coke fans went out searching the shops for a bottle with their name on, and it was all thanks to digital printing and labelling machines.
There are endless possibilities for custom labels with digital printing. You can give customers the freedom to choose their own personalisation when ordering or print various brand messages onto each product. Consider creating collectable versions of your products, which customers can go out to find, and make it clear they won't be around for long. Custom labelling is also an excellent opportunity for your marketing department. When you give your marketing team the flexibility to regularly change their messages, you can give them endless creativity.
Once you have printed your custom labels, your labelling machinery can continue to place them on your products with no changes. If you are using front and back labelling, or top and bottom labelling, your labelling machinery can use custom labels on one side and your standard labels on the other. For businesses that don't have their own labelling machinery and printers to hand, contract labelling is an excellent way of creating custom labels for your products. To discover more about digital printing and labelling machines, contact our team.