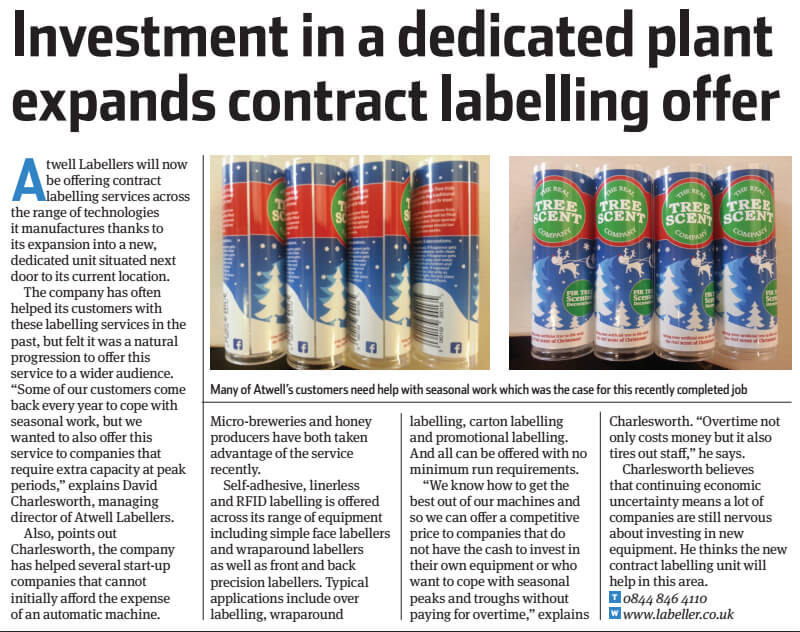 NEW! Contract Labelling
Atwell Labellers will now be offering contract labelling services across the range of technologies it manufactures thanks to its expansion into a new, dedicated unit located next door to its current location.
The company has often helped its customers with these labelling services in the past, but felt it was a natural progression to offer this service to a wider audience. "Some of our customers come back every year to cope with seasonal work, but we wanted to also offer this service to companies that require extra capacity at peak periods," explains David Charlesworth, managing director of Atwell Labellers.
Also, points out Charlesworth, the company has helped several start-up companies that cannot initially afford the expense of an automatic machine. Micro-breweries and honey producers have both taken advantage of the service recently.
Self-adhesive, linerless and RFID labelling is offered across its range of equipment including simple face labellers and wraparound labellers as well as front and back precision labellers. Typical applications include over labelling, wraparound labelling, carton labelling and promotional labelling. And all can be offered with no minimum run requirements.
"We know how to get the best out of our machines and so we can offer a competitive price to companies that do not have the cash to invest in their own equipment or who want to cope with seasonal peaks and troughs without paying for overtime," explains Charlesworth. "Overtime not only costs money but it also tires out staff," he says.
Charlesworth believes that continuing economic uncertainty means a lot of companies are still nervous about investing in new equipment. He thinks the new contract labelling unit will help in this area.