Over the last few years Atwell's have developed and expanded its Labels & consumables business which now includes the following added value services for our customers:-
Full label design and artwork, including stock cutters
Digital label printing of smaller self-adhesive label orders
Flexo & Litho self-adhesive & linerless label printing up to 10 colours one side and 4 on the reverse
Supply of plain and single colour self-adhesive & linerless labels
Secure label call off and storage
BRC accredited production sites
Fast lead times and extremely competitive prices
Atwell's also offer a full consumable support business for the range of equipment supplied including:
Full inventory of self-adhesive and linerless Labelling system spares
Hot foil Ribbons, type holders and metal type characters
Thermal transfer ribbons and cleaning kits
Continuous ink jet coloured inks & solvents
Atwell's intention is to ensure that its customers always receive the best possible service and that Atwell's retain in its position within the industry as the number one for product development, continually bringing new ideas and environmental concepts to the market.
Why Consider Changing?
As part of Atwell's continuous product development program we are pleased to now offer our customers a truly exciting opportunity to improve your labelling line efficiencies, reduce your costs and help the environment.
Achieved by changing from your existing glassine liner self-adhesive labels to the same labels on a PET liner
In-house coating facility via our chosen partners
R&D platform for customer driven projects
Direct cost benefits passed on to our customers
Components sourced from global leaders including Exxon Mobil, Innovia and Henkel
We offer Synthetic labels at no on-cost to paper
Through our in house materials we have the ability to change our customers from paper to Synthetic with no on-cost to switch.
Synthetic materials are proven to be recyclable were as paper labels are identified as being a hazard to the environment, WRAP Project
All our in-house materials, including our paper materials, can be supplied on PET backing at no extra cost
PET backing increase productivity
PET reduces the number of web snaps
Helps business to meet ISO14001 directives
Concept of PET Liner
The current "glassine" label backing material is not easy to recycle and nearly 100% becomes land fill
This "glassine" liner is made from processed paper and is subject to the same price rises as the face material as it all comes from the same source
Nearly 50% of your label cost is simply thrown away as waste
Greater flexibility than "linerless" labelling as the feed and printing process is the same as your current label material and not restricted by label shape.
The face paper and adhesive are identical to your current self-adhesive label application
PET Liner Advantages
The waste liner is 100% recyclable and consists of pure PET material which is;
A known commodity in the waste recycling market
Easy to process and has unlimited re-processing potential
Has a smaller footprint than the equivalent paper liner which means more can be stored in a smaller space ready for recycling
Helps your business meet local and national recycling directives and ISO 14001
Less line stops due to more labels per roll
The elimination of land fill costs, typical cost per ton of waste is £150.00 and the cost of the uplift of the waste from the factory
The PET waste can be sold commercially to offset your labeling cost. Current prices for clean PET is approx. £300 metric ton
Less storage space required in the warehouse
Reduces your "carbon footprint" and the associated cost saving in carbon credits
Lower transport costs due to more labels per roll
What is the spot price for PET?
https://www.recycle.net/cgi-bin/exview.cgi?st=LA&w=01&sc=1001






Added Value (Service)
Customer Focused – of course we are. But how are we different?
Request sample packs, quotes or open an account online
Transparent M.I.S
Unique "Real-Time" scheduling
Dedicated business team
After sales support. Including technical and NPD.
Online stock control and call-off via secure Extranet
Invested in a CRM system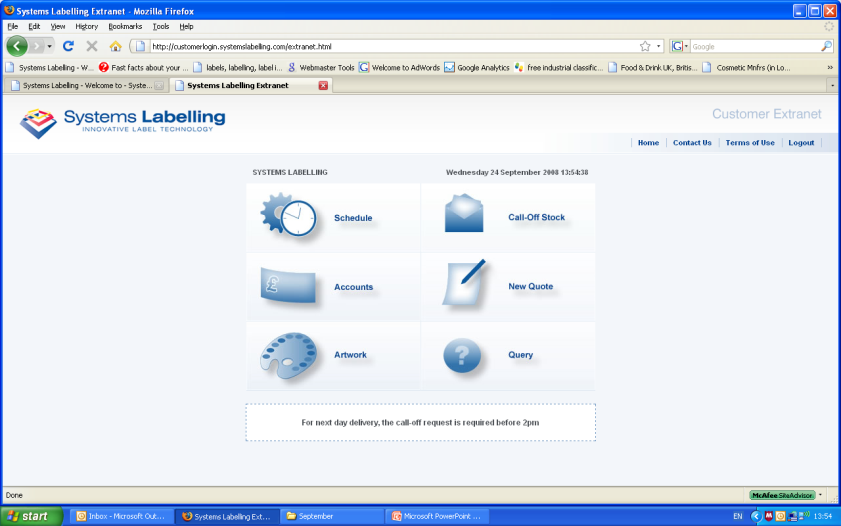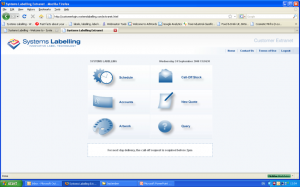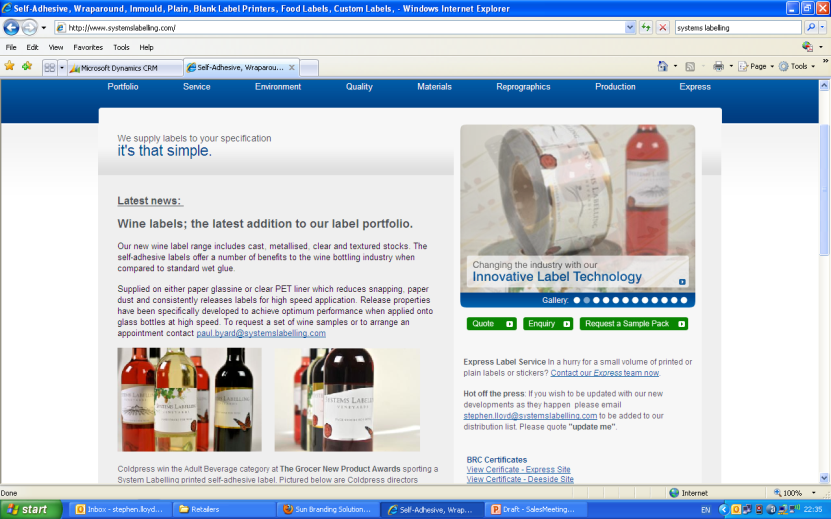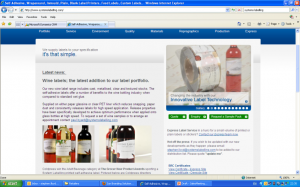 In summary
We have the infrastructure to consistently deliver to customer specific requirements working with our chosen partners
Through innovation we lead the labelling market
We understand the recycling industry and offer a range of environmentally smart products
By working in partnership we can add true value to your business