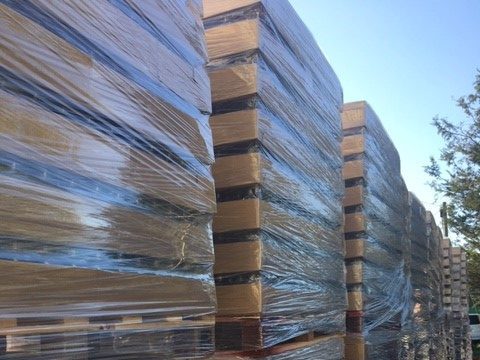 Everything You Need To Know About Pallet Labels And Labelling Machinery
Product labelling involves so much more than just the labels which sit on a products surface. Pallets of products also need to be adequately labelled, and it is an industry where even one small mistake can be very costly to a business. Pallet labelling helps a company to identify their products and keep track of them through the entire supply chain easily and quickly. Pallets which are clearly labelled will avoid errors which can be costly and make sure all products are arriving at the correct destination in time and in good condition. As specialists in labelling machinery, we're sharing everything you need to know about pallet labels.
What Is Pallet Labelling And How Does It Work?
The process of applying labels to products on a pallet is known as pallet labelling, and it assists businesses with managing and tracking their stock. Pallet labelling is usually used as part of a full labelling system, using features such as barcodes to provide a full view of a business's inventory. It is different to product labelling, which refers to the labels which are applied directly onto products and are customer facing. Pallet labelling is an internal tool to help businesses with their inventory and operations. Properly labelled pallets can improve traceability, reduce labour costs, and enhance visibility over products. Not only that, but pallet labelling can help brands to comply with industry standards and government regulations.
What Is A Pallet Labelling Machine?
There are various options available when it comes to labelling machines for pallets. You can get dedicated pallet labelling machines which apply labels directly to the products on a pallet, or you can use a print and apply labelling machine or labelling gun. This method allows you to apply the labels directly to the products and pallets yourself. One of the main benefits of this method is that these labelling machines are versatile enough to be used for many other applications including product labelling, eliminating the need for multiple label machines on premise.
Pallet labelling machines are often very large and are designed to apply labels to pallets at extremely high speeds, making them suitable for big operations where this heavy duty type of equipment is required. For smaller businesses, a pallet labelling machine may not be a cost effective solution as they require high upfront investment. More generic labelling machine solutions are often suited to smaller operations, as they can be used for all labelling requirements as opposed to just pallets.
At Atwell Labellers, we are experts in all type of labelling machinery and our team can help you decide on the best solution for your business. We will take the time to understand your printing requirements, budget, and output to help recommend the perfect labelling machine or contract labelling service for your business. Contact us today for more information.