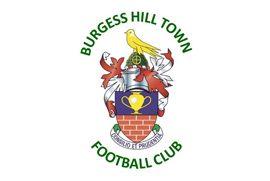 Atwell Sponsor Burgess Hill Town FC
Burgess Hill Town FC has been developing links with local businesses over the past 2 years as it progresses as a 'community club' and most recently has joined up with Atwell Labellers (Hickstead) with football pitch side board advertising. The football club has had it's strongest year ever reaching it's highest ever level. This is not achievable without the coming together of match day revenues and local sponsorship from businesses like Atwell Labellers.
The football club plays in the semi-pro Ryman League South and the financial demands that this league brings to play at a higher level.
Richard Strange, General Manager says "The running of a club at this level can only be done by stretching out to local people to increase support on match days and to opening up links with local businesses who we can give exposure to through our promotion on match days, website and through local radio such as Bright FM who promote the results and fixtures. We are delighted to be a partner with Atwell Labellers and working with them in the year ahead"
Best Regards
Richard Strange
General Manager